Pig Trotters with Ginger and Black Vinegar (猪脚姜醋)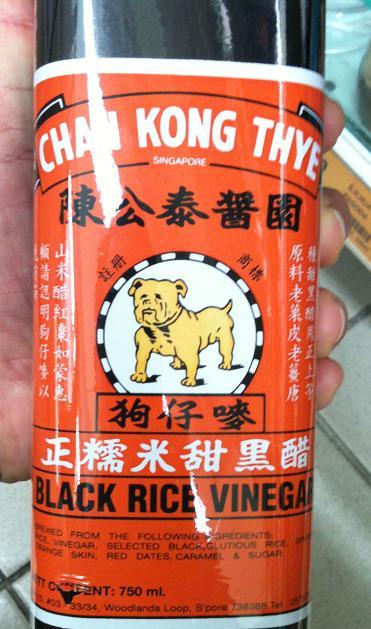 Finally get this recipe typed out.  Manage to get this recipe from my mom.  In Singapore and Malaysia, this dish is commonly consumed by women after giving birth to their babies.  It is a very heaty dish, and helps women to cleanse the body of blood clots and remove wind.  It should be consumed only after 12th days of giving birth.  However, it can be consumed by anyone, regardless giving birth or not, male or female.  You can also get this from some restaurant in Singapore.  Note that you need to start preparing 1 day before the day you want to consume it.
For the pig trotters, it is very flexible.  You can add more by re-using the same vinegar gravy and repeat the method for day 2 on the 3rd day or 4th day.  However, just taste the gravy and add salt if not salty, add vinegar if not sour enough, or add rock sugar if not sweet enough.
Hind legs are too fatty, but if you like its ok.  Front legs are better, more lean meat.  The lower part (shin) has less meat but more tendons (chewy), and the upper part (thighs) are more meaty.  
Tell the butcher you are cooking this dish and he will recommend you what to get.
The portion is quite large, halve the portion if you like to try smaller portion.
 Ingredients
1.5 Kg ginger
1.5  litres black vinegar ( 2 bottles) (see the picture, use this)
1.5 litres water, (2 bottles)
4-5 Pig legs
150 gm rock sugar, about 2 pieces
1 tablespoon salt
4 table spoon sesame oil
Method Day 1
If you want the ginger with the skin on, which is recommended for consumption by women who have just given birth, to get rid of wind) wash the ginger buy brushing the skin.  Otherwise, scrape off the skin of the ginger.
Cut the ginger into chunks, hit with side of the cleaver to crack it slightly.
Heat up a frying pan, add in sesame oil.  Pan fry the ginger till fragrant.
In a pot, pour in the black vinegar, water, rock sugar, salt, and the ginger.  Allow it to boil for 15 mins.  Off the flame and let it soaks overnight.
Method Day 2 and beyond
Clean the pig trotters and remove hairs if any.
Boil the pig trotters in a big pot of boiling water for 10 mins to remove the smell and also the blood clots.  Remove and rinse with tap water to remove the blood clots that stick to the meat and skin.
In a frying pan or wok, without adding oil (just dry), put in the pig trotter and fry till fragrant.
Add the pig trotter into the vinegar prepared the day before.  Bring to boil and allow it to simmer for 1 hour to 1.5 hours, or unit the meat are soft (try poking with a chopstick).  Note that over cooking will result in the meat breaking apart and party dissolved into the gravy. 
If you like eggs, you can prepare some hard boiled eggs, remove the shells, add into the vinegar gravy and allow to boil, and then leave it to soak overnight.  It will turn a little hard but it is tasty and chewy.  If you have not tried this, I'll recommend to try.  You can prepare this even on day 1.