Hi, I'm Stanley, and I'm just like many of you, I have a passion in cooking and I have a passion in teaching others how to cook.

Check out my page on art and science of cooking, yes cooking is both an art and science. There are scientific reasons why some fix procedures will ensure success, and art of adjusting the ingredients to the right amount to suit your taste. For example, there is scientific reason why fish stick to pan when you fry them.

This site will host a huge collection of recipes. Recipes of all kinds of cooking are available, and we focus on "simple and tasty". We wish to teach others the step by step instruction of how to cook something simple, not too complicated with too many ingredients and steps, but simple ingredients with simple steps, and cook out a dish of tasty and delicious meal. If you are out of ideas what to cook, or teach your foreign domestic helper to cook, we provide you great ideas.

It is free to browse and print the recipes. We also wish that you could also contribute recipes. Simple things you have been cooking and tasty, share them here. Recipes could be invented by you, pass down from your parents, taught by your friends or relatives, share them here! A unique URL that links to the page of all your contributions will be given to you free! You can invite your friends to view your personalized recipe in our site.

At the same time, I wish to promote Singapore food, or Asian food by and large, to the world, especially visitors who visited Singapore or the region, tasted the food here and, why not, cook it themselves back in their country! In this globalization era, most of the ingredients can be purchased worldwide, especially when there is a China Town in the city. You could share it with your friends who have not visited Singapore. At the same time, this will also be a good food hunt guide for both you to experience the Singapore taste while you are in Singapore!

Thanks for visiting and Visit us again! Below are samples of recipe and tips.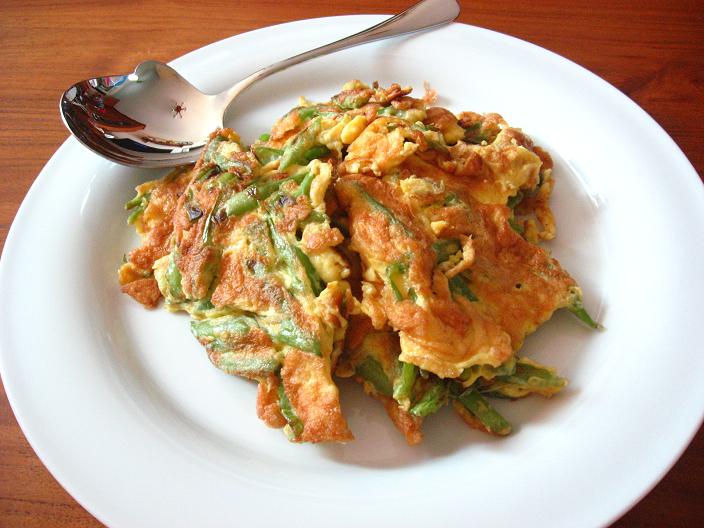 French Beans Omelette
Ingredients
Hand full of French beans (about 30 strands or about 250 grams)

4 eggs

1/3 teaspoon salt

4 table spoon cooking oil
Method
Wash the French beans, and pluck out both tips.

Do not use knife, using your fingers to break the tips, and pull off any fiber if it comes out along.

Cut the pod slanting, to about 5cm length.

Beat the eggs in a bowl.

Heat up the wok, put in 2 table spoon cooking oil, and add the French beans and salt and stir till beans turn darker green in color.

Spread out the French beans on the wok, and pour in the egg.

Flip over when brown and drip in the remaining oil on the side to prevent egg from sticking to the pan or wok.

Serve when both sides are nicely browned.

Serve hot.
How to prevent fish from sticking to your pan when frying
You either have non-stick pan, then your problem is solve. Alternatively a black iron wok that is well seasoned and oiled has less problem with sticking. The reason is there is a layer of oil between the fish and the metal.
Fish stick to pan when there is nothing in between the fish and the pan when it is being cooked. So in general, it is important the oil is very hot (with some light fumes coming out), and you put the fish down slowly. This will ensure the fish surface contact the oil first and sufficiently to have the outer layer coated before it touches the pan. This will prevent the fish from sticking on the pan. Leave it frying with low flame till fish is almost cooked before flipping over. This ensures the side that is being cooked has "crust" that prevents the meat from falling apart when you flip.